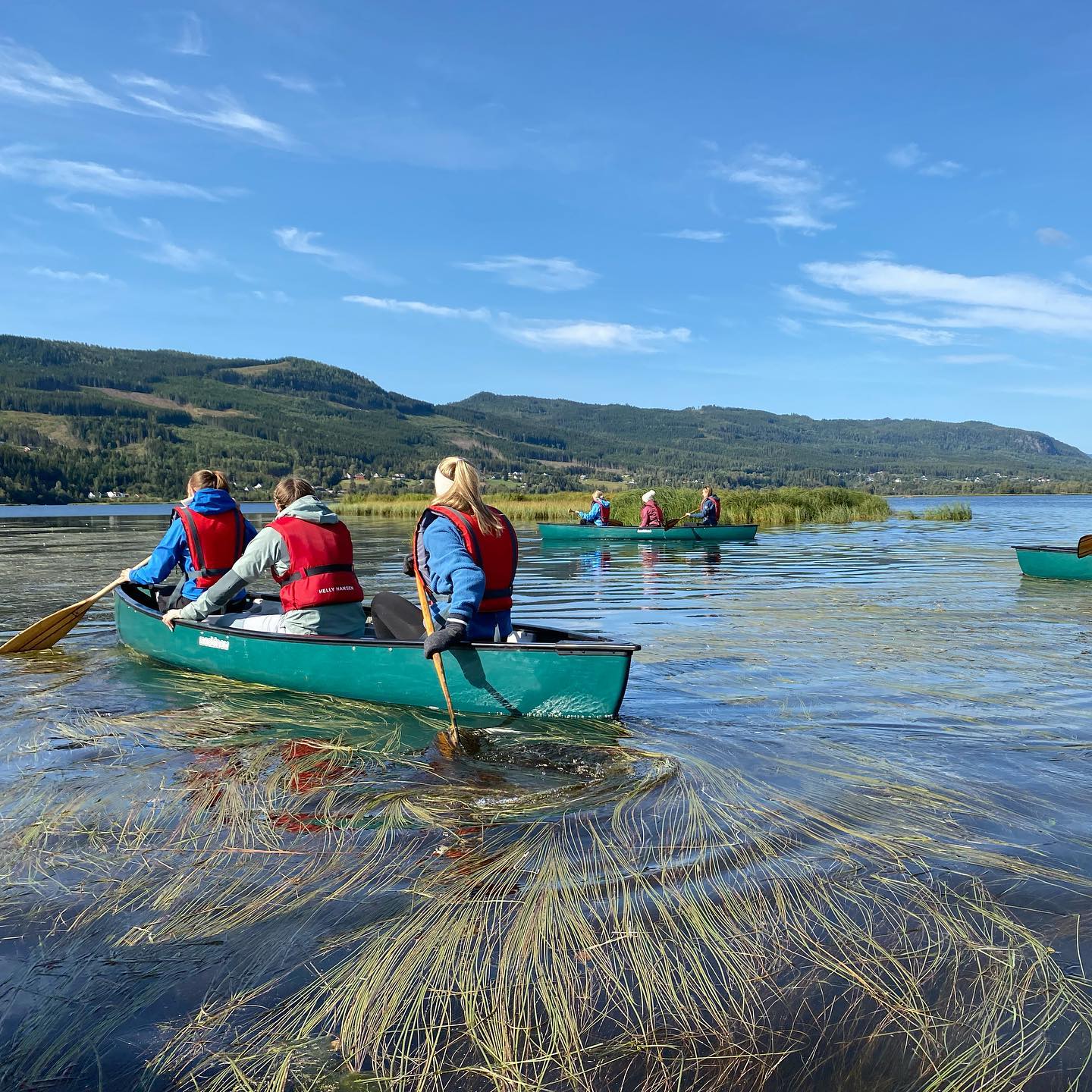 School visit
If you want to learn about nature, you learn best out in nature itself. The Wetland Center believes in seeing, experiencing, feeling and knowing what we have around us. Through our various teaching programmes, we can offer a wide selection of subjects in nature guidance for schools.
We offer both nature guidance at the Wetland Center and we can be booked to visit schools. See detailed description of the arrangements below. It is possible to spend the night in a tent in our outdoor area if there is a long journey or if the class wishes to have an academic arrangement over several days. In Naturhuset we have a kitchen, toilets and a meeting room that can be rented for overnight stays. Get in touch if there is anything you are wondering about.
Nature guide at the Wetland Centre, Odnes
Vika by the Wetland Centre is nice to explore
The Dokka Delta has a very large biological diversity that can be explored in many ways. We have extensive experience from field work for biology students and adapt arrangements according to wishes and the season. We have the equipment and facilities to carry out a number of schemes at the Wetland Centre such as;
Guided canoe trip in the delta
Ringing of birds
Water insects, water measurements and water samples
Fishing and ice fishing
Nature boxes about four ecosystems; The Dokka Delta, forest, bog and mountains
Exhibition of the biological diversity in the Dokka Delta
A series of lectures adapted to the curriculum in biology and natural sciences
Biological diversity and sustainable management of nature
Bird as an indicator of climate change
Fish in the Randsfjorden
Adaptations in species and ecology
Wetland – ecosystem services
The living bogs
Littering and pollution – consequences for nature and us
School visit – for pupils or workshop with teachers
Lecture on foreign species in the Inland for Dokka VGS
Our employees have over 70 annual projects to take care of our nature, we take this practical knowledge and experience into communication for schools. In the new science curriculum, there will be more exploration of the school's local environment, as well as measures to preserve biological diversity in the local environment. We have extensive experience in doing this through our versatile work to preserve and restore nature. Advice on what measures can be taken is something we can contribute through a school visit. What you can do in the school's immediate environment depends on what type of nature is nearby. Get in touch if you have specific wishes for a visit from us, we adapt content according to wishes and age levels.
Topics in natural sciences and biology
Biological diversity and how to manage nature
Ecosystems at risk and ecosystem services
Climate change and biodiversity
Seasons, adaptations in animals and plants
Nocturnal animals
Bird
Human influence in Arctic areas – birds on Bjørnøya
Contamination
Red list – examples of species in Innlandet and why they are on the list
Foreign species – examples of species and what we can do to combat them
Tropical rainforest
Food and Health
Competence targets that we can introduce and create a scheme around;
critically assess information about food production and discuss how consumer power can affect local and global food production
explore the climate footprint of food products and understand how food choices and food consumption can affect the environment, the climate and food safety
Mediation with nature boxes
We have four different nature boxes with the ecosystems Dokkadelta, Gammel skog, Myr and Fjell, which can be taken on school visits to give an insight into some selected species. An educational scheme around the boxes is adapted to age levels so that the boxes can be used both for kindergartens, schools and upper secondary schools.
The forest fund contains typical species in forests
The professional arrangement around the boxes is adapted to age levels
Academic input for science teachers
Course/workshop for teachers in topics within the curriculum in science;
Explore the biological diversity around the school and find measures that can help preserve diversity
Supply chains – examples from the local area
Birds – how to increase species knowledge and general knowledge of birds
Feel free to follow us on Facebook and Instagram and you can see many examples of nature guidance.
Useful information about Dokkadelta Nature Reserve, RAMSAR and IBA
Free crossword puzzles of common insects, orchids, wetland birds and mountain birds